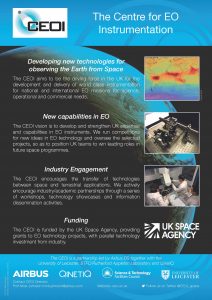 The Centre for Earth Observation Instrumentation was originally established in 2007 and renewed in 2016 as CEOI 2020 in order to realise an excellent, internationally competitive national Earth observation instrument and technology research and development programme. The CEOI is funded by the UK Space Agency with parallel technology investment from industry. Its key aim is to develop UK innovative technologies to observe Earth from space through the teaming of scientists and industrialists.
The CEOI welcomes the involvement of all UK academic and industrial partners who can contribute to the development of UK EO capability.  In addition to technology projects led by the CEOI partners, the CEOI is also funding projects resulting from regular Technology Calls.
With a vision to develop and strengthen UK expertise and capabilities in EO instrumentation, the CEOI will help to position the UK to win leading roles in future international programmes.
The CEOI will also support the UK Space Agency in managing projects for the development of technologies for all aspects of future space missions.
The CEOI is led by Airbus DS in partnership with QinetiQ, University of Leicester and STFC/Rutherford Appleton Laboratory.
CEOI Technology Development Brochure
Space offers many exciting opportunities to both the scientific and industrial communities.  To capitalise on this, the CEOI programme is geared towards knowledge exchange and knowledge transfer activities that will assist in:
Assessment of  future needs and requirements of the industry

Identification of  potentially disruptive technologies

Aiding the adaptation and adoption of technologies being developed elsewhere.

Delivering measurable results through well-targeted technology programmes.
Leading scientists are actively engaged on the development of the science drivers and critical instrument technology areas, within teams relevant to the different projects.  This will ensure that technology development is aligned with scientific need.  The key problems of climate, environment and air quality are science priorities that need to be addressed in the near term and which are well matched to existing UK academic and industrial capability. The CEOI projects chosen reflect these imperatives – investing in clearly identified gaps in short- and mid-term instrumentation requirements maximizing impacts of UK developed technologies in European programmes.