Quantum technologies to be developed for an innovative Earth observation space mission
On behalf of the UK Space Agency, the Centre for Earth Observation Instrumentation (CEOI) is pleased to announce an exciting new instrumentation development project, selected through the CEOI 13th Earth Observation (EO) Technology Call. In this project, Teledyne e2v in the UK are collaborating with STFC RAL Space and University of Birmingham in the development of CASPA, an instrument to measure the tiny forces exerted on a spacecraft in very low Earth orbit, which can over a long time period cause the spacecraft to de-orbit due to atmospheric drag.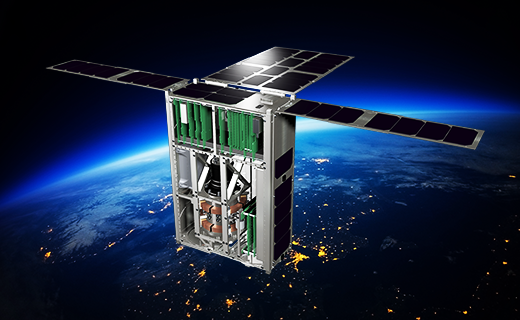 The instrument will use a quantum technology technique to generate and hold in place very precisely an ultra-cold 'atom cloud', just a few millimetres in diameter, and cooled by lasers very close to absolute zero. It is by measuring the minute accelerations experienced by this 'atom cloud' that the extremely small forces on the specially designed spacecraft can be calculated. The project will show how this instrument can be built in a low-power and compact package.
The Earth's upper atmosphere is a highly active region that plays a key role in the planet's energy transfer, influencing climate and weather. The CASPA instrument will contribute to our understanding of how this region changes over time. It will dramatically improve our understanding of upper atmospheric dynamics and drive advances in climate modelling, weather forecasting and satellite orbit prediction.
This project will build on Teledyne e2v's previous work to build a laboratory prototype of the Cold Atom Space Payload (CASPA) CubeSat; which demonstrated they could create and trap a cold atom cloud. The new project will be another major step towards using cold atoms for real space applications.
This industrial and academic collaboration aligns strongly with the key objectives of the UK Space Agency EO technology strategy and will position the UK as a world leader in the provision of cold atom payloads and sensors for a new generation of Earth observation satellites.
---
Notes to Editors
The open competition EO-13 was run by the Centre for Earth Observation Instrumentation (CEOI) on behalf of the UK Space Agency.
The CEOI is a partnership of Airbus Ltd, QinetiQ Ltd, STFC Rutherford Appleton Laboratory and University of Leicester.
CEOI was set up in April 2007 and is funded by the UK Space Agency to support UK industry and universities to develop new technologies for space, to collaborate, and to maintain its position as a world-leader in Earth Observation satellite technology.
The CEOI recently updated the UK Earth Observation Technology Strategy on behalf of the UK Space Agency.
This project will build on Teledyne e2v's previous CASPA project which was funded by UKRI within the UK's National Quantum Technology Programme (https://uknqt.epsrc.ac.uk/).
Teledyne e2v is part of the Teledyne Imaging Group. Their innovations lead developments in healthcare, life sciences, space, transportation, defence and security and industrial markets. Teledyne e2v's unique approach involves listening to the market and application challenges of customers and partnering with them to provide innovative standard, semi-custom or fully-custom imaging solutions, bringing increased value to their systems. For more information, visit https://www.teledyne-e2v.com.
For Further Information, contact:
Mick Johnson, Director of CEOI, mick.johnson@airbus.com
Mark Bown, Head of Marketing – Teledyne e2v Space & Quantum, mark.bown@teledyne.com
Ben Hemington, UK Space Agency, ben.hemington3@ukspaceagency.gov.uk