W/C 5th September 2022
Hosted by NCEO, RSPSco, CEOI & Satellite Applications Catapult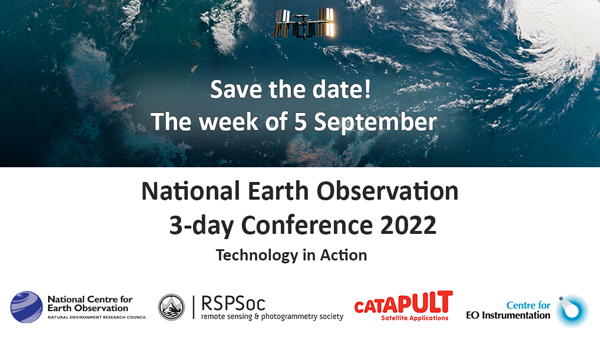 The UK National Earth Observation Conference 2022 – hosted by the Remote Sensing & Photogrammetry Society; the National Centre for Earth Observation, the Centre for Earth Observation Instrumentation and the Satellite Applications Catapult – will take place over three days in w/c 5 September, expected venue to be the National Space Centre.  Don't forget to save the date as this is shaping up to be a very significant gathering of the UK EO community across research, government and industry. 
The conference will be focused around 'Earth Observation science – Technology in Action'.   The programme will include keynotes, exhibitions and poster sessions, some outreach activity plus plenary and parallel sessions. 
As we are now beginning the plan the programme, the organising committee invites you to submit ideas to lead and chair a plenary or parallel session topic of up to one to two hour's duration. Full details of how you can become involved in this way can be found in the attachment "Call for sessions and chairs".
Please get involved and help shape the 2022 conference. The EXTENDED Call for sessions and chairs is attached.  Please submit by email to eoconference2022@rspsoc.org.uk by 17.00 hours on Friday 8th April. 
Further organisational information will follow, but as we are planning this will be a hybrid conference, with both real and virtual participation, we are really looking forward to welcoming many of you in person to the event.