---
Lead organisation: Earth-i Ltd.
Project Lead: Owen Hawkins

Partners: University College London, Cortexica Visions Systems Ltd. & Surrey Satellite Technology Ltd.
The objective of the project is to implement, test and demonstrate ultra-high-resolution optical image analysis techniques, involving both software and dedicated hardware such as Graphical Processing Units (GPUs). The project will also determine the extent to which these capabilities could be deployed on-board British optical imaging satellites in future, with a roadmap for inclusion in a forthcoming constellation.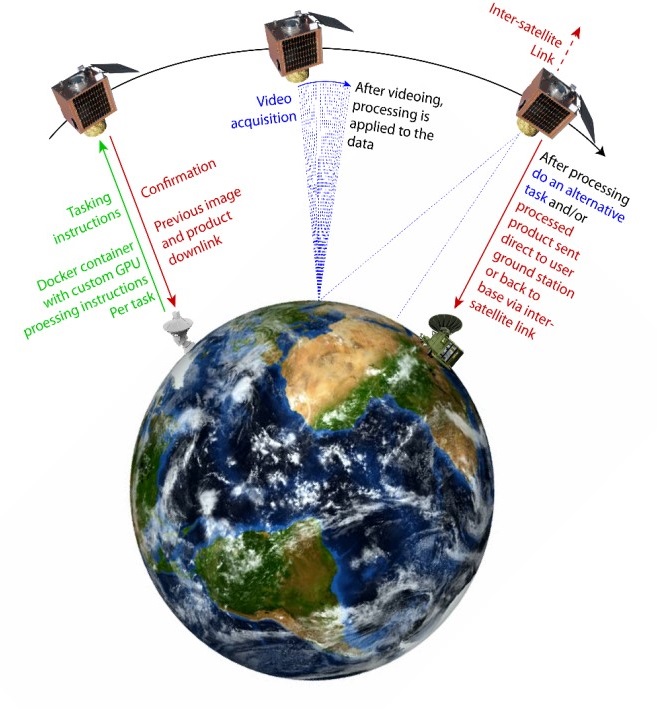 The specific processing capabilities to be explored are:
Super-resolution enhancement of images;
Retrieval of sub-pixel 3D point clouds;
Cloud detection and image quality assessment;
Change detection and moving object extraction;
Video compression.
The team has identified several highly marketable opportunities resulting from incorporating such capabilities on-board the satellites in future:
Processing on-board the satellite can substantially reduce the amount of data the satellite needs to store and downlink, increasing the satellite's overall capacity;
Compression can offer a reduction in data volumes, and works well with satellite video data where redundancy is high;
Cloud detection can be used to only downlink imagery if the target is visible;
Quality assessment on-board means that otherwise unusable imagery need not be downlinked, for example if the signal to noise ratio is too low;
Extracting alternative information products can mean that the entire video or image set need not be downlinked;
Processing the video data into data products can provide directly to the ground recipient a product that has already been processed prior to use, reducing the need for ground infrastructure for interpretation and reducing latency;
In any case, where a visibility, quality or other assessment is made this could be fed back into the mission plan for automatic re-tasking with different specifications, such as to attempt acquisition from an alternative angle or with a different frame integration time.
Since it may not be possible to do all the necessary processing on board the satellite, the project will trial different on-board processing approaches and determine the optimum combination of on-board and on-ground processing considering various hardware and software implementations and end user needs. The team has engaged with potential end-users of the resulting products and services and all have expressed a keen interest in exploiting such technology in future.
This is a time critical opportunity to achieve deployment within commercially meaningful timescales as international competition is growing. It uses existing low-cost technologies for rapid deployment.